I've basically officially decided that I'm going to drop out of Brooks Institute of Photography. Not because they didn't promise the education they were going to give us, because they're giving us top of the line education. No it's not because I don't want to become a photographer. It's because I'm tired of the people at this stupid fucking school. You would think because it's a liberal arts school that everyone would be cool, laid back, and down to Earth. But in reality, it's a bunch of rich fucks who want to rub it in your face that their daddies can pay for fucking everything. Or that they're simply better than you because their mother's can yell at the administrator to pass them. How pathetic is that? You can't pass the class, so you get your mommy on the phone to yell at administration? YOU'RE PATHETIC. It's also because I really don't want to let my career in biotechnology just fade away like it already has started to. In high school I received awards, met CEOs of biotechnology corporations, had people swear to back me up when I was ready to step into the career.. I just don't want to let that go, and I want to start back up as soon as I possibly can. I also feel that my type of photography doesn't fit under any of the categories that Brooks Institute offers to me.
So, I'm probably going to go to SBCC and combine my biotechnology and photography classes.. Or take a break from photography and take all biotechnology and math classes, and slowly work my way back into photography. I'll be successful no matter what I do, and I know that.
And besides, even after that I'm still going to law school. That way I can take pictures of evidence and scientifically support my cases my god damn self.
And to add to everything else, I went shopping hardcore today.
The Target in Ventura basically kicks ass. Got a bunch of stuff for under $200, got some prints, still need to get more, and then I got some Hollister perfume ftw. And uh, that's about it. It's nice to have a lamp in my living room, so I can actually see. o_O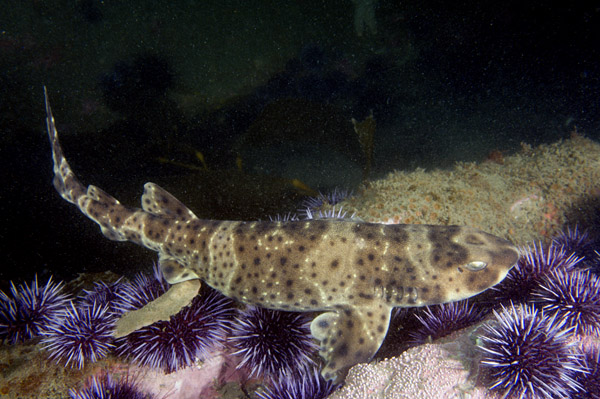 To add to my blog, I had an amazing day. Aside from going to Target, we went to the Sea Center on the wharf (or whatever the fuck it's called), and we HELD SHARKS. WE HELD MOTHER FUCKING SHARKS. The Swell Shark, to the left, is rather muscley shark. Is that even a word? And we got to touch sea cucumbers, starfish, hermit crabs, decorative crabs (weird ass creatures).. It was a whole lot of fun. After that Brenton took us out to dinner to Moby Dick's. Pretty good shit. I had lobster ravioli. Fuck yeah, lobster. AND THEN I GOT ICE CREAM YUMYUM.
I have nothing else to blog about.