My post listing my personal style icons is now coming sooner than i thought. you will find there are more girls than guys. And honestly, most guys styles out there do not do anything interesting for me. For the most part i'm like "Oh that's nice, put down that kanye west or pharell editorial and go away". First up for this post is the musicians;
The fucking queen of new-wave punk, Blondie frontwoman, Deborah Harry. Back in her day, she popularized the two tone dyejob nowadays is most frequently seen on scene kids and dumb blonde girls. She has the most (i am going to have to have lady miss sonic slap me for using this word) "fabulous" fucking cheekbones ever. I've never seen a woman look so like glam and street simutaneously in my life.
Trashy white female rapper and First Lady of Acid Wash, Amanda Blank. She's probably my biggest style icon at the moment. I do not hate on anything homegirl puts on. And for a white girl in the rap game, she keeps her flow going extremely well, even if she's totally trashed.
The crazy brazilian women of Bonde Do Role (say it with me now, "BON-JEE DOH HO-LAY"). Current vocalists, Laura Taylor and Ana Bernadino pictured above and former vocalist Marina pictured below. Their styles, to me, really represent the music they perform and I love it.
And the other crazy brazilian woman, Lovefoxxx of CSS. She is adorable. She is colorful. She likes to get drunk. You get the idea.
Glam king, David Bowie. Come on, he's a sexpot. He did the whole androgynous omnisexual alien thing as Ziggy Stardust back in the early 70's. If you don't love David Bowie, I'll rip your balls off.
Okay, Iggy Pop is barely ever clothed. I don't think he even knows how to put a shirt on. I admire that. Nowadays he is the hottest 60 year old man ever. Stfu, you'd hit that or GTFO.
Everyone's favorite Rockabilly band, The Horrorpops. Okay so for the most part, they wear mostly black. If you remember me 4 years ago, so did I. Also, Patricia Day rocks a beehive that puts Miss Winehouse to shame.
Sexy fucking punk MILF, Brody Dalle. Formerly of The Distillers and currently with her new band, Spinnerette (WHOM I'M DESPERATELY WAITING TO HEAR A FULL TRACK FROM). Brody really got me into the whole punk style when I first got into the distllers years ago. She has this fucking sexy raspy voice. And my hair, by coincidence, looks kind of like hers in the above picture.
Big ass frontwoman of the Gossip , Beth Ditto. You are also not allowed to hate on her in front of me. Her voice and sense of confidence are way bigger than her stomach. She fucking stripped onstage at skinny-ass hipster party MisShapes a while back. She refused to perform at an event for Topshop because they don't make clothes in her size. She's just proof that you don't need to do coke and get anorexic to become fucking amazing.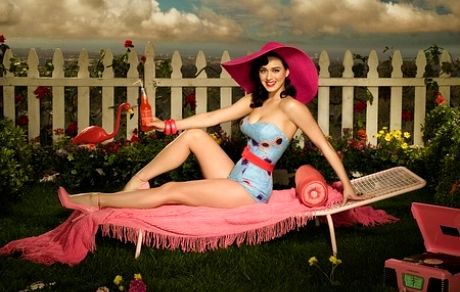 Katy Perry is probably the most mainstream person you will find on this list. For the record, I was into her WAY before she did warped tour and before anyone ever heard "I kissed a girl". Her whole lolita style i find adorable. She has huge tits too. Excuse my inner straight man.
Crystal Castles front woman, Alice Glass. She reminds me of Enid from Ghost World. She reminds me of, you know, the little outcast indie bookworm girl that the popular girls picked on gone absolutely fucking crazy. She's just too cool.
MOAR TO COME LATER.
emo update: Like i am with all emotional situations (if you're close enough with me, you know), I have decided I am too cool for that, I have decided I am too cool to be tied down, and I have decided to wait it out because, let's just say "the ocean has become to treacherous to navigate the storm"